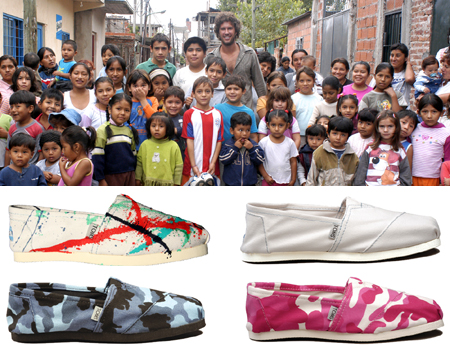 Blake and his Toms
Dear Tom aka Blake Mycoskie(founder),
I must admit, I truly was not a fan, initially of your ever so popular, karate shoe inspired, charitable contribution of a shoe, better known as the Tom-Classic Flat! I would often spy them on hippie, granola types and think to self-those are some
saaad
looking shoes, until I was in Nordstrom one day and decided, hmmm...let me see what these shoes are really talking about! Well, that was last summer and boy did I have a change of heart once I stepped foot into these little dandies!! Talk about comfy-chic!!! Comfort, being the most important thing on my list these days, I just couldnt resist the Tom, especially
this
sparkly little number! More and more I started to see them on the trendiest of hipsters and thought hey, Im totally on the late bus and now that I've hopped on, there's no turning back!!! I now own two pair, red and gold, and am eyeing the black glitters, which will be perfect for my trip home from vacay and baby #2 delivery(yes, Im already planning my outfit home). I just scored
this
camoflaged pair for my little tyke, who, like his momma, already loves him some shoes! The husband is not so convinced, but I he did tell me he went looking on the
website
, "just browsing", he said, but they didnt have his size(note to Blake, you may want to consider going up to a size 16 for men-there are lots of tall fellas out there, who love a little fashion and comfort). All in all, I have been very pleased with my Toms( clearly Im a fan
here
,
here
, and
here
) and I must say the lesson learned...Never say Never, because one never knows what will end up on your feet!!!
Live Long and Try New Things!!!!!